Contact Us - we would love to hear from you
The best way to contact us is by telephone. If you are unable to do that you can contact us by filling in the form below. One of our family business members will be on hand to deal with your enquiry quickly and efficiently and we can soon reach an understanding of what furniture you are looking for from our huge selection and give you the extra information to enable you to progress your enquiry.
Please enter your details below by filling in the * Required fields. The other fields can be useful to us to help progress your enquiry.
Find car park in Barker Street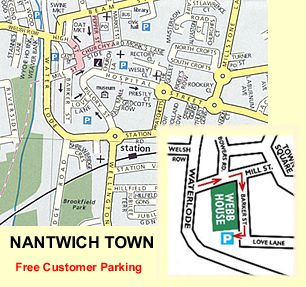 Webb House Furnishers Ltd
Mill Street Nantwich
Cheshire CW5 5ST
01270 629296
sales@webbhousefurnishers.co.uk
Business Opening Hours:
Monday to Saturday 9am to 5pm