Welcome to Webb House Furnishers - a family business supplying quality furniture throughout the Cheshire area for over 40 years!
Tucked away in Mill Street is a hidden treasure within the beautiful historic market town of Nantwich. We invite you to browse our extensive showroom at Webb House Furnishers, we are situated just 50 yards from the town square. Webb House Furnishers are a family-run business established in 1974, whose wealth of experience in the furnishing industry has given us a reputation for high quality furniture at exceptional prices. We pride ourselves in being one of the premier furnishers in the Crewe and Nantwich area of Cheshire and believe our quality, value and service will take some beating. Our dedicated team will be on-hand to help you make the right furniture choice.
We have one of the largest displays of high quality furniture in Cheshire with over 10,000 sq ft of showroom space over 2 floors with ample customer parking.
.. [click to read more]
On display there is a wide range of beds, mattresses, bedroom storage, bed frames, headboards, wardrobes and a huge selection of leather suites, fabric suites, leather recliners, fabric recliners, dining furniture, living room storage. Supplied from well known brands such as Parker Knoll, Stressless, Himolla, Celebrity, Cintique, Hypnos Beds, Dunlopillo Beds, Mammoth Beds, Myers Beds, Sealy Beds, Sherborne Upholstery, Nolte Mobel and Relyon Beds

To receive all the latest news and benefit from our new discount code promotions:
Webb House News
New Harrison Beds Free & Easy Collection
We now have on display the
Harrison Rosario 9700 Divan Bed
which is one of the models from Harrison Bed's new Free & Easy Elite Collection.
This superb collection of non turn mattresses, all have natural fillings of cotton and wool, a chemical free fabric sleeping surface and feature Microlution Spring within a Spring technology
Each of the models; Rosario, Lima, Havana and Santiago have a different specification. The Rosario mattress has natural fillings of cotton, mohair and Egyptian cotton, triple side stitching for edge to edge support and a choice of firmness
Every model in this collection is handmade in the UK, with a 5 year guarantee. There are a choice of fabrics for the divan base and a choice of headboard styles and fabrics to accompany your bed.
Posted by: Isobel Whitby 11 Jul 2018
---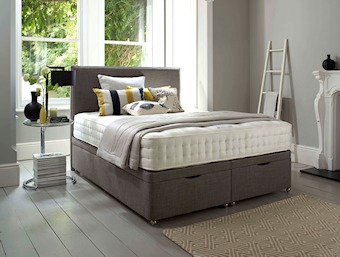 June Bed of the Month - Relyon Kingston Ortho Kingsize Bed
Our Bed of the Month for June is the Relyon Kingston Ortho King Size Bed which is currently at the price of a Double size - only &pound999! and you also get 2 Free Drawers, which is great if you need that extra bit of storage space.
The Kingston Ortho Bed has been designed with firmer comfort layers and pocket springs to create a very supportive, yet comfortable mattress. It has 1000 Pocket springs which move independently and so provide the best postural support. The individual pocket springs follow and support your body shape and weight. A layer of hypo-allergenic fibre is used underneath the mattress fabric cover which is ideal for allergy sufferers.
It is available to test out in our Nantwich showroom!
Posted by: Isobel Whitby 11 Jul 2018
---
Delivery Driver Job Vacancy
Delivery Driver/Warehouse Operative Job Description
An excellent opportunity has become available to work for an established family business based in Nantwich serving both local and national customers. The primary focus of this role would be driving and the local delivery of furniture to our customers homes, however order picking and the organisation of our on-site warehouse would also be a key responsibility of the successful candidate.
Heavy lifting and careful handling of goods is a regular feature of the role, assembly of furniture and a good DIY know how will be beneficial for anyone hoping to be successful in their application. This role is part of a 2 man delivery team so being able to work well with others and as part of a small team is essential.
Experience of 2 years would be preferred but is not essential. However, a Full UK Driving License and previous experience of driving larger vehicles is required. Additionally, the job will involve other varied tasks within our store and a degree of flexibility will be key regarding availability for overtime and varying working days.
We view this as an important role as we move the family business forward. It is important that we identify the candidate with the right level of knowledge and experience; but also with the right character and personality, for this reason, we are prepared to be patient if necessary.
We would require approximately 22.5 hours a week (3 days), overtime will be necessary at certain times of the year. Salary will be discussed with the successful applicant, but will be in excess of the National Minimum Wage.
Please read the notes below before applying for this role.
All applications should be made by email to jobs@webbhousefurnishers.co.uk and should include your C.V. along with a covering letter detailing why you feel that you have the experience and qualities that we are looking for; this is your opportunity to demonstrate your personality.
Each application will be assessed on its own merits, however, our requirements are quite particular and applicants will only be considered for interview if their application and covering letter demonstrate the qualities that are essential within our business.
Please note, this email address is not constantly monitored and as such you may not receive an immediate acknowledgement.
Posted by: Isobel Whitby 13 Mar 2018
---
Click here to read more news items