Tucked away in Mill Street is a hidden treasure within the beautiful historic market town of Nantwich. We invite you to browse our extensive showroom at Webb House Furnishers, we are situated just 50 yards from the town square. Webb House Furnishers are a family-run business established in 1974, whose wealth of experience in the furnishing industry has given us a reputation for high quality furniture at exceptional prices. We pride ourselves in being one of the premier furnishers in the Crewe and Nantwich area of Cheshire and believe our quality, value and service will take some beating. Our dedicated team will be on-hand to help you make the right furniture choice.
We have one of the largest displays of high quality furniture in Cheshire with over 10,000 sq ft of showroom space over 2 floors with ample customer parking.
.. [click to read more]
On display there is a wide range of beds, mattresses, bedroom storage, bed frames, headboards, wardrobes and a huge selection of leather suites, fabric suites, leather recliners, fabric recliners, dining furniture, living room storage. Supplied from well known brands such as Parker Knoll, Stressless, Himolla, Celebrity, Cintique, Hypnos Beds, Dunlopillo Beds, Mammoth Beds, Myers Beds, Sealy Beds, Sherborne Upholstery, Nolte Mobel and Relyon Beds

To receive all the latest news and benefit from our new discount code promotions:
Webb House News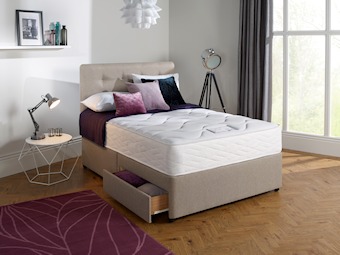 Bed of the Month - Myers Kelmscott
Our Bed of the Month is the
Myers Kelmscott Divan Bed
. The offer on this bed is
Kingsize for the price of a Double plus 2 Free Storage Drawers!
All this for only
&pound499!
The Kelmscott features 1000 MyPro-Pocket Springs which offer superior comfort and support. The MyEdge support mattress prevents roll off and is a non turn mattress that you simply rotate. It is made in the UK and has a 5 year guarantee.
It is available to test out in our Nantwich showroom!
Posted by: Isobel Whitby 6 Jun 2017
---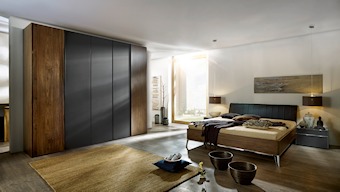 Our Guide to Buying a new Wardrobe
You would argue that a wardrobe was almost as important as a bed in your bedroom, so its important to make the right decision when buying one. Here are some things to consider before you make your decision.
Preparation
The first thing you need to think about is where you'd like the wardrobe to sit in your room and then you need to measure the space. Make sure you measure floor to ceiling, wall to wall, and the distance between where the wardrobe will be and other items of furniture in your room. Don't forget to allow for clearance space for doors.
Types
Now you know the size you require, it's time to start thinking about what type of wardrobe you'd like for your bedroom:
Two door wardrobes are the most common type of wardrobe around. They usually have a fairly simple and basic design, consisting of a hanging rail, a shelf above, and perhaps a drawer or two at the bottom for shoes and other small items. Something like the Como 2 Door Wardrobe would be great as this actually has 4 drawers at the bottom for plentiful storage, it is self assembly which is reflected in the price.
Three door and four wardrobes will often have the same features as a two door wardrobe but with added shelving space on the sides and space for two hanging rails. These are usually the wardrobe of choice for couples or people with large amounts of clothes. This Julian Bowen 3 Door Wardrobe is a very stylish off-white painted finish and features a hanging rail and shelves inside. It is self-assembly and this is reflected in the very reasonable price.
Sliding door wardrobes are the smart choice for people without a lot spare space for doors. The interior of a sliding door wardrobe will depend on the size and design but they'll likely have a spacious hanging rail, often divided up into more than one section, shelf space and drawers along the bottom. We have a wide selection of sliding door wardrobes by well known brand Nolte Mobel, currently in store we have the Horizont 7000 and Marcato ranges which are available in many different formats and in a selection of different finishes.
Budget
Do your research and look for a wardrobe that is durable, stylish, and has enough storage space to meet your needs. Consider whether the wardrobe comes pre-assembled or not. Whilst ordering a pre-assembled wardrobe might save you time, pre-assembled wardrobes tend to be pricier than their self-assembly counterparts.
We have many different styles and shapes of wardrobe available to suit every budget with many different finishes and hanging/storage options you can browse our full collections on our website.
Posted by: Isobel Whitby 2 May 2017
---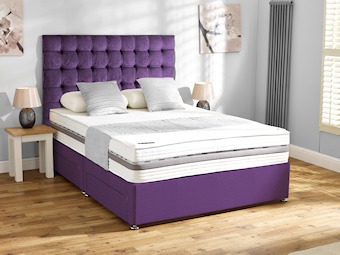 We now stock Mammoth Beds!
We are pleased to announce we are now a stockist of Mammoth Beds. Mammoth Beds are best known for their invention of 'Medical Grade Foam' which is derived from their healthcare origins and their work with the NHS and private healthcare sectors. Medical Grade Foam is an incredibly effective material for achieving comfort. By responding immediately to both the weight and shape of the human body, it helps a sleeper maintain a neutral position, which ensures good spinal alignment.
Mammoth have gone further than any other brand in developing cutting edge technologies and materials in the pursuit of comfort and sleep quality. True comfort requires the perfect blend of pressure relief, support and temperature regulation, and this they believe, is the Science of Comfort.
We have 4 models on display; The Mammoth Mammoth, Performance Pocket 1600, Supersoft 270 and the Supersoft 22 Adjustable Bed. Pictured here is the Supersoft 270.
Posted by: Isobel Whitby 23 Mar 2017
---
Click here to read more news items