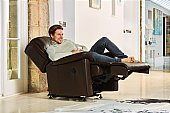 Product Information
The generously-sized Olivia is one of the most comfortable and supportive Recliner/Suite ranges you could ever settle into.

Offered in both Fabric and Leather, its stylish back design and soft, 'pillow' arms make it look equally at home in either a traditional or a more contemporary setting.

Available in a Standard size throughout, with an additional small size on the matching 'Lift & Rise' Recliner only. Sherborne's unique TouchStop safety system is fitted to all 'Lift & Rise' Recliners.
Request more information
Sizes & Features
All measurements are approximate.
Width: 157cm (61.8.inches)
Height: 106cm (41.7.inches)
Depth: 99cm (39.inches)
Olivia Standard Leather 2 Seater Recliner Sofa
by Sherborne