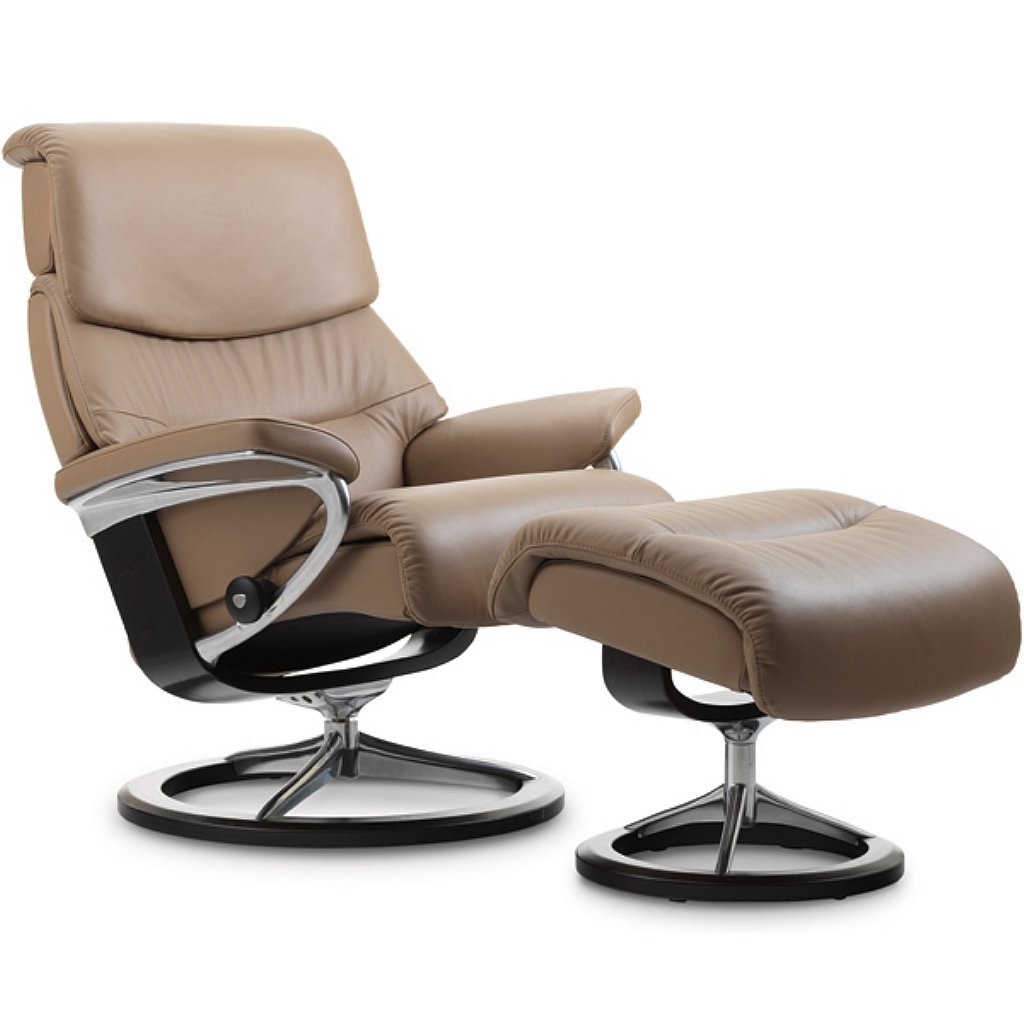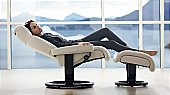 Product Information
The Stressless Capri is part of the stunning New Global Collection.

There is a choice of Base in each piece the Classic or the Signature. Both options allow for 360° swivel, optional height adjustments and are available in a range of colour options.

The Classic Base - has been an iconic design choice for more than 30 years. It's two stem design is instantly recognisable and gives unique stability as you recline.

The Signature Base - A stylish, modern design combining cast aluminium, wood and movement. The Signature base is new to the range and includes the Balance Adapt™ a soft rocking motion that increases comfort and helps maintain movement when seating.

There are 4 leather grades for the Stressless recliner. Each have been treated differently to suit individual tastes. To help you choose we explain the leathers below.

Batick - a corrected, pigment-improved leather, which has had most blemishes removed. Batick is a heavy-duty leather that has a protective layer of lacquer that simplifies cleaning.

Cori - a corrected, pigment-improved leather, with most blemishes removed. Cori is thicker and has a larger pebbled grain than Batick. Cori is a heavy-duty leather with a protective layer of lacquer to simplify cleaning. Some Cori colours have a slight two-tone effect the livens up the colour.

Paloma which is a popular choice - a slightly corrected leather which means that some of the natural marks, scars and insect bites can show through. This gives it a more authentic, natural look and feel. A thin coat of lacquer simplifies cleaning and gives some protection. Due to its soft, natural, comfortable feel and range of colours. Paloma is a very popular choice.

Noblesse - the most exclusive leather in the range is a full grain semi-aniline which means fully penetrated dye and has only a very thin protective coating. This allows the leather to keep the natural softness and warmth that characterises a first-class leather. Minor colour variations and natural marks can occur. Noblesse will gain the most character of all the leathers over time, will feel the softest to touch but will require a little more maintenance that the alternatives.

Most Stressless recliners are available in 3 sizes - Small, Medium and Large. Selecting the right size for you can be guided by your height but should ultimately be decided by the feel and fit of each model.

The approximate size range for each chair are as follows;
Small - up to 5'6'
Medium - between 5'4' and 6'0'
Large - over 5'10'.

You can purchase the recliner alone or with the matching footstool.
Request more information
Sizes & Features
All measurements are approximate.
Features
Top-Grain Leather
Balance Adapt™ Rocking Motion
Smooth Recline Adjusts To Your Body Weight
Infinity Recline
Automatic Neckrest Supporting You In Every Position
Automatic Lumbar Support
Smooth Recline To A Wonderful TV/Reading Position
Adjustable Footstool
Stressless - Capri Leather Recliner with Signature Base
Supplier Information - Stressless
Stressless is one of the most famous comfort furniture brands, and is manufactured by Ekornes in Norway.
Stressless has built the worlds finest leather recliners since 1971. Design, function and comfort are at the heart of the Stressless concept, and they are continously working on improving every detail of their products.
Inspired engineering, trend forecasting and industry experience are the secret to creating luxurious furniture people are proud to own. As the Innovators of Comfort, Stressless are masters of the comfort needs of the human body and continue to develop the most intuitive and beautiful comfort technology.
---