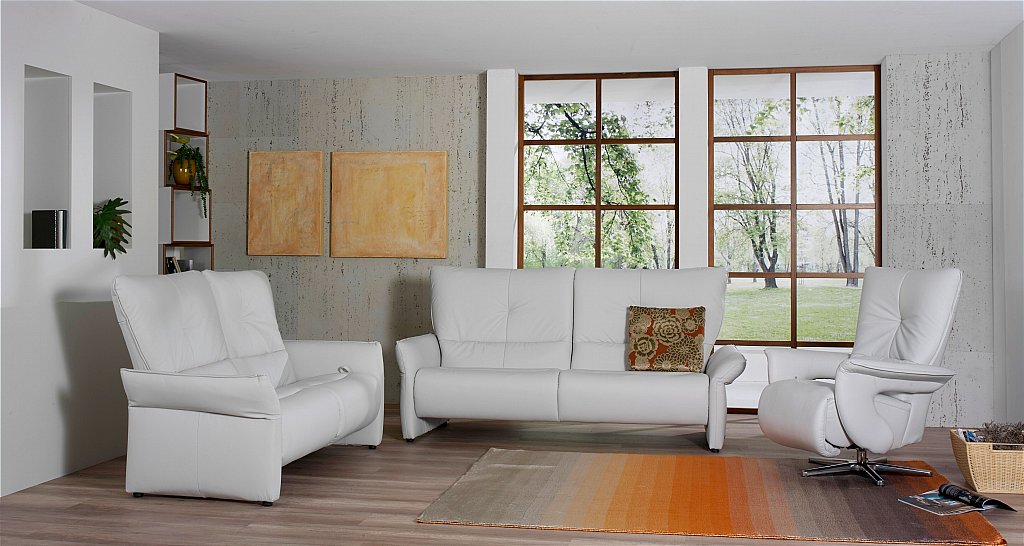 Product Information
The Brennand is a stunning contemporary reclining sofa range.

The ergonomically moulded sofa and armchair backrests add a special added touch of comfort. As well as the 2, 2.5 and 3 seater sofas in this range there is also a recliner armchair all of which are available as fixed or with manual or electronic reclining function.

The main differentiation between the Brennand and Brent range, is that the pieces in the Brent range are 'Wall Huggers' which means you need minimal space behind the sofa in order to recline it.
Request more information
Sizes & Features
All measurements are approximate.
Features
Available as fixed, manual or electronic recline
A range of leather upholstery or fabrics
Stylish and contemporary
Himolla - Brennand Cumuly Leather Recliner Suite
Supplier Information - Himolla
The Himolla brand is synonomous with made to measure design, comfort as standard - what you would expect from Germanys foremost upholstered furniture maker.
So how did a small, artisan joinery in an idyllic German village evolve into one of Europe's leading upholstered furniture manufacturers, in just a few decades? They turned the idea of making upholstered furniture for the way people live into their corporate philosophy, and made sure it included a dedication to exceptional quality standards and a concern for resource-conserving production techniques.
Himolla Zerostress Recliner Range - demonstration video
This short video about the Zerostress Recliner range by Himolla talks about the importance of looking after your back and relaxing! All of the models in the range with high backrests feature the famous integrated Zerostress function that allows you to slide effortlessly and smoothly from a sitting to a comfortable lying posit
.. [click to read more]
on.

Himolla Cumuly Recliner Range - demonstration video

You can view the Himola Cumuly Recliner range demonstration video on our Videos page. In this short video, the Cumuly recliner range is likened to travelling First Class on an aeroplane where pure relaxation is achieved through being able to adjust your seat to your preferred position. The high back rests and broad deep seats make for ultimate comfort.

---