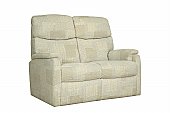 Product Information
Indulge in sumptuous comfort with the Celebrity Hertford 2 Seater Sofa, featuring Mammoth Medical Grade Foam for a lavish seating experience. Benefit from VAT exemption eligibility, making this opulent sofa even more attainable. With a wide range of fabric and leather options, it seamlessly complements your decor, adding a touch of sophistication to any space. Embrace the perfect fusion of style and relaxation, as you create cherished memories in this exquisite sofa of pure indulgence.
Request more information
Sizes & Features
All measurements are approximate.
Width: 135cm (53.1.inches)
Height: 109cm (42.9.inches)
Depth: 94cm (37.inches)
Hertford 2 Seater Sofa
by Celebrity