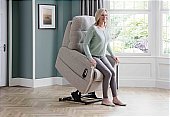 Product Information
Indulge in exceptional comfort with the Celebrity Sandhurst Riser Recliner Chair, featuring Mammoth Medical Grade Foam for an exquisite seating experience. Enjoy the added benefit of VAT exemption eligibility, making this premium chair an affordable luxury. Available in fabric and leather, it effortlessly complements your decor, adding a touch of elegance to any space. Embrace the perfect blend of style and well-being as you recline in sheer opulence, cherishing moments of pure relaxation and serenity.
Request more information
Sizes & Features
All measurements are approximate.
Width: 81cm (31.9.inches)
Height: 110cm (43.3.inches)
Depth: 94cm (37.inches)
Sandhurst Riser Recliner Chair
by Celebrity