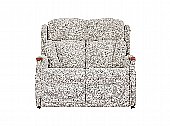 Product Information
Immerse yourself in pure bliss with the Celebrity Canterbury 2 Seater Sofa, now equipped with Mammoth Medical Grade Foam, offering unsurpassed comfort for you and your loved one. Discover the added benefit of VAT exemption eligibility, making this premium sofa even more appealing. Choose between fabric and leather upholstery options, ensuring it seamlessly integrates into your living space while delivering exceptional support and style. Elevate your home with the perfect combination of relaxation and sophistication.
Request more information
Sizes & Features
All measurements are approximate.
Width: 128cm (50.4.inches)
Height: 109cm (42.9.inches)
Depth: 86cm (33.9.inches)
Canterbury 2 Seater Sofa
by Celebrity