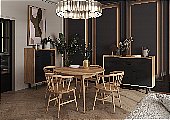 Product Information
Introducing the Bell and Stocchero Balto Large Sideboard, an epitome of sophistication in Anthracite. Its sleek design adds a touch of contemporary allure to your home. With matching pieces available in White or Anthracite, customize your interior to perfection, blending seamless style with ample storage for a harmonious living space.
Request more information
Sizes & Features
All measurements are approximate.
Width: 140cm (55.1.inches)
Height: 120cm (47.2.inches)
Depth: 46cm (18.1.inches)
Targa Large Sideboard in Anthracite
by Bell and Stocchero