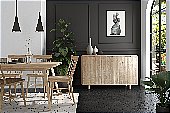 Product Information
The Bell and Stocchero Como Dining Fixed 140cm Dining Table redefines dining experiences. Its elegant design and sturdy construction make it a focal point of gatherings. Crafted with precision, this table offers a perfect balance of style and durability, creating a captivating setting for shared meals and unforgettable moments with family and friends.
Request more information
Sizes & Features
All measurements are approximate.
Width: 140cm (55.1.inches)
Height: 75cm (29.5.inches)
Depth: 90cm (35.4.inches)
Rayner Fixed 140cm Dining Table
by Bell and Stocchero