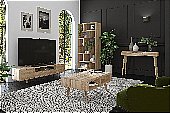 Product Information
The Bell and Stocchero Como Dining Tall Display Unit embodies grandeur and functionality. Its towering presence adds a sense of luxury to your dining area. With ample display space and practical storage solutions, this masterpiece elevates your decor, offering a perfect blend of contemporary elegance and seamless organization, making every mealtime extraordinary.
Request more information
Sizes & Features
All measurements are approximate.
Width: 80cm (31.5.inches)
Height: 180cm (70.9.inches)
Depth: 42cm (16.5.inches)
Rayner Tall Display Unit
by Bell and Stocchero