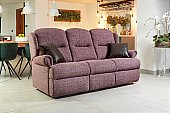 Product Information
Beautifully styled design offered in Small and Standard sizes on every piece, an additional, larger Royale size on all Recliners and these and a smaller Petite size on all Riser Recliners. Features attractive scroll arms, full-width 'chaise' seating and soft, fibre-filled backs for excellent head and lumbar support.
Request more information
Sizes & Features
All measurements are approximate.
Width: 147cm (58.inches)
Height: 106cm (42.inches)
Depth: 100cm (39.inches)
Features
Available in Small and Standard sizes
Larger Royale size available on all recliners
Additional Petite size available on Riser Recliners
Available in a range of fabrics and also available in Leather
Malvern Standard Reclining 2 Seater Sofa
by Sherborne