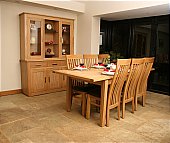 Product Information
The Elements Slat Back Dining Chairs come in a choice of 7 different wood finishes and a brown faux leather seat pad.
Request more information
Sizes & Features
All measurements are approximate.
Width: 48cm (19.inches)
Height: 104cm (41.inches)
Depth: 57cm (22.inches)
Features
Please note the price here is for a singular chair.
Elements Slat Back Dining Chair
by Andrena