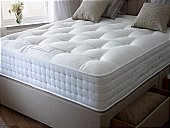 Product Information
The hand tufted silk upholstery on the Grange Natural Ortho Pocket 1000 encases a rich mix of luxurious, natural fillings working alongside a layered pocket spring system to offer you superior support and comfort all night long.

The pocket spring system is the best at providing individual support to the sleeper. The upper part of the spring shapes to the body contours while the lower part absorbs changes in weight distribution for the ultimate in comfort and support.

Wool is used in this mattress as a soft and insulating upholstery layer for added comfort. Wool is a natural insulator providing coolness in the summer and warmth in the winter.

A soft layer of cashmere is added to the mattress to provide levels of exquisite comfort and finest silk fibres are blended into a durable insulation layer inside the mattress, providing a sumptuous and supportive feel.


A cotton layer with responsive properties that complements the spring unit is then added to the mattress to help provide a comfortable feel and enhances breathability.

The hand tufted mattress features side stitching which extends the sleeping area to the mattress edge by supporting the mattress walls and has flag-stitched handles on both sides for ease of positioning.

Turn over and rotate your mattress once a week for the first 3 months and then once a month thereafter to help the fillings settle evenly.
Request more information
Sizes & Features
All measurements are approximate.
Features
1000 Pocket Springs the ultimate in comfort and support. Wool Layer
Cashmere Layer
Silk Layer
Cotton Layer
Side Stitching
Hand-Tufted
Silk Fabric Cover
Flag-stitched Handles
Chrome Air Vents
Double Sided Regular Turn Mattress
Grange Ortho Natural 1000 Divan Bed
by Highgrove Beds