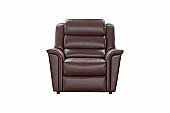 Product Information
The Colorado Armchair features curved, clean lines and a three tiered cushioned back, this contemporary classic is the perfect addition to any home. It is available with the option of a manual or electronic reclining system and a USB port so both you and your devices can recharge.
Request more information
Sizes & Features
All measurements are approximate.
Width: 107cm (42.inches)
Height: 105cm (41.inches)
Depth: 91cm (36.inches)
Features
Available in a choice of fabrics and leather
Handmade in Britain
Colorado Armchair
by Parker Knoll