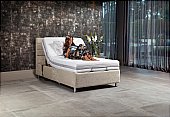 Product Information
All Sherborne mattresses include a layer of pressure relieving memory foam over a thicker, supportive layer of base foam. This mattress is available as firm, medium or soft.

The Deluxe uses an additional layer of latex foam for a slightly softer top and even more temperature control. Fitted with a 'Cool Max' cover to alleviate overheating.

The Deluxe features a 13cm foam base layer and a 7cm memory foam layer.
Request more information
Sizes & Features
All measurements are approximate.
Features
Deluxe Mattress
by Sherborne