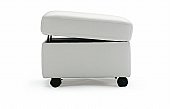 Product Information
The Modern ottoman is ingenious in at least two ways. It has a built-in tilt system, which makes sure the angle of the ottoman is adapted to your sitting position. It also has room for all the extras, under its removable top. This ottoman comes in two sizes.
Request more information
Sizes & Features
All measurements are approximate.
Width: 60cm (23.6.inches)
Height: 44cm (17.3.inches)
Depth: 60cm (23.6.inches)
Features
Available in a range of leathers and fabrics
Modern Large Ottoman
by Stressless