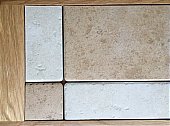 Product Information
The Amber/White tile top collection is part of Anbercrafts Traditional Range. This collection is available in a range of natural woods or in a stained or polished wood finish.

Natural: Natural Oak, Ash, Maple or Beech.
Stained: Teak, Mahogany, French Cherry, Medium Oak or Dark Oak.
Request more information
Sizes & Features
All measurements are approximate.
Width: 44cm (17.3.inches)
Height: 42cm (16.5.inches)
Depth: 25cm (9.8.inches)
Features
Hand made in Staffordshire
A range of different tile tops are available.
Amber White Magazine Table
by Anbercraft