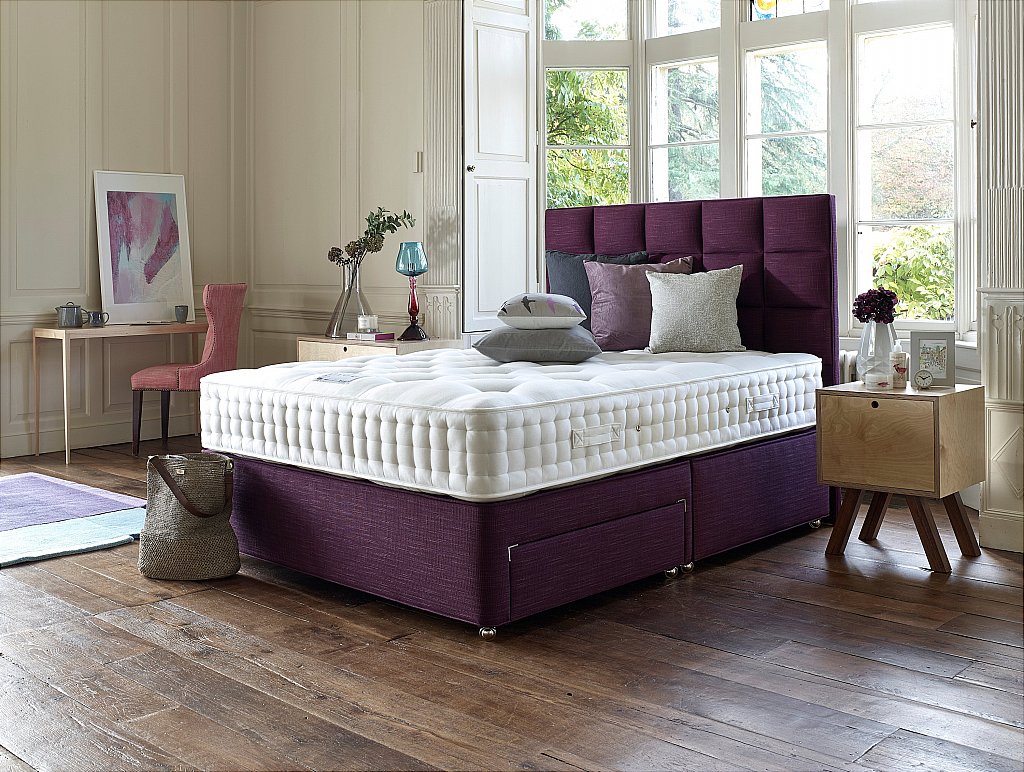 Product Information
The twin layers of pocket springs in the Kensington combine with the hair rich luxurious natural upholstery for a brilliantly supportive and lofty mattress.

It has 2000 double layer pocket springs which move independently and so provide the best postural support. The individual pocket springs follow and support your body shape and weight. A layer of hypo-allergenic fibre is used underneath the mattress fabric cover which is ideal for allergy sufferers.

The mattress is turn-able - we recommend turning over and rotating your mattress once a week for the first 3 months and then once a month thereafter.

There are 3 rows of hand stitching providing edge to edge support and a lambswool layer which adds softness and insulation and creates added comfort. The mattress has an 8 year guarantee.

Available as a non drawer, 2 drawer, 4 drawer or an ottoman or alternatively available on legs.
Request more information
Sizes & Features
All measurements are approximate.
Features
2000 Pocket Springs
Hypo-allergenic layer
Turn-able mattress
Edge to edge support
Lambswool layer
8 year guarantee
Available in Soft, Medium or Firm
Relyon - Kensington Divan Bed
Supplier Information - Relyon
Each Relyon bed is lovingly hand built, combining traditional craftsmanship and the latest innovations in manufacturing, to ensure the optimum sleep system that delivers that all important lasting comfort. After all, up to a third of our lives can be spent sleeping, which is why it makes sense to invest in a bed from Relyon that consistently provides the perfect nights sleep.
Natural fillings are the key ingredient in making the most sumptuous mattress. At Relyon they really know and understand natural fibres as they began life in 1858 as a wool merchant in the Somerset town of Wellington.
Originally named by the founding Price family as Price Brothers and Co, the business evolved rapidly into manufacturing beds, and then in 1935 the name was changed to Relyon as the goal was to design beds that you could truly 'rely on' for a good night's sleep.
Relyon Factory Tour Video
Relyon invite you to see how they make th
.. [click to read more]
best beds in the world, they talk about their long standing heritage and go on to give you a factory tour to demonstrate the craftsmanship that goes into making every mattress.

---