Fine Furniture in Cheshire
Tucked away in Mill Street is a hidden treasure within another.... the beautiful historic market town of Nantwich. We invite you to explore the treasures of Webb House Furnishers, situated 50 yards from the town square whilst you explore the hidden treasures of our town. We are a family-run business established in 1974, whose wealth of experience in the furnishing industry has given us a reputation for high quality furniture at exceptional prices. We pride ourselves in being one of the premier furnishers in the Crewe and Nantwich area of Cheshire and believe our quality, value and service will take some beating.
We have one of the largest displays of fine furniture in Cheshire with a massive choice of beds, mattresses and headboards and we have a huge selection of leather suites and fabric suites, leather recliners, fabric recliners and dining furniture providing extensive choice. Over 10,000 sq ft of showroom space in one of the finest furniture stores in Cheshire with ample customer parking. Our dedicated team will be on-hand to help you make the right furniture choice.
Sign up to our newsletter to receive all the latest news and benefit from our new discount code promotions:
Webb House News
Delivery/Warehouse Assistant Job Vacancy
An excellent job opportunity has become available to work within our business.
The primary focus of this role would be the local delivery of furniture to our customers homes and also working within our showroom, organising and assembling furniture.
Another key role of the job would be order picking from our on site warehouse and also keeping this area tidy and organised.
Heavy lifting and careful handling of goods is a regular feature of this role, assembly of furniture and a good DIY knowhow will be beneficial for anyone hoping to be successful in their application.
This role is part of a delivery team so being able to work well with others and as part of a small team is essential. Some experience of driving larger vehicles would be preferred but is not essential. However, a Full UK Driving License is required. Additionally, the job will involve other varied tasks within our store and a degree of flexibility will be key regarding availability for overtime and varying working days.
We view this as an important role as we move the family business forward. It is important that we identify the candidate with the right level of knowledge and experience; but also with the right character and personality, for this reason, we are prepared to be patient if necessary.
We would be offering contracted hours of approximately 15 hours a week (2 days), this will need to be 22.5 hours a week (3 days) on request and may be as often as half of your working time. Overtime will be necessary at certain times of the year.
Salary will be discussed with the successful applicant, but will be in excess of the National Minimum Wage.
Please send your C.V. along with a covering letter detailing why you feel that you have the experience and qualities that we are looking for either to our postal address (Mill St, Nantwich, CW5 5ST) or via email to jobs@webbhousefurnishers.co.uk. In addition to this, we would recommend calling into our showroom or phoning our shop to display your interest in the job as this gives us a chance to meet/speak to you in person and would significantly increase the likelihood of being successful in your application.
Posted by: Isobel Whitby 23 May 2016
---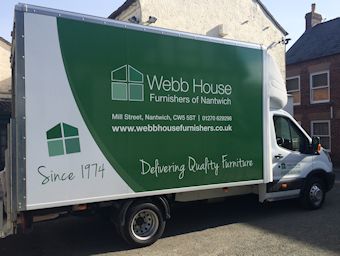 Our Brand New Delivery Van!
We have a brand new Delivery Van!
We are really pleased with its eye catching design, look out for us out and about in your area!
Posted by: Isobel Whitby 28 Apr 2016
---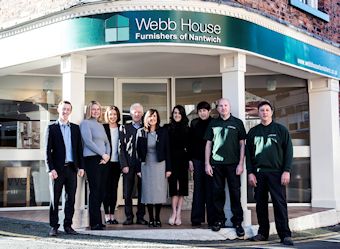 The Webb House Team New Photo
We have had some new photography taken of the Webb House Team
From L-R Neil Webb, Isobel Whitby, Ellie Calder, Howard Webb, Joan Webb, Rebecca Nevitt, Janet Stockton, Rob Sandland and Dave Taylor.
Posted by: Isobel Whitby 19 Feb 2016
---
Click here to read more news items
Baumhaus Roadie Chic Living & Dining range
We are pleased to be able to offer some very special discounted prices on the Roadie Chic range of Living & Dining furniture range.

This eclectic collection is handmade using salvaged hardwood and has unique flaws so no two items are the same!

Many of the items are on castor wheels which is perfect if you like to re-arrange your furniture regularly!

View the full range here http://www.webbhousefurnishers.co.uk/Search/roadie-chic

Please note this is an online only promotion.