Fine Furniture in Cheshire
Tucked away in Mill Street is a hidden treasure within another.... the beautiful historic market town of Nantwich. We invite you to explore the treasures of Webb House Furnishers, situated 50 yards from the town square whilst you explore the hidden treasures of our town. We are a family-run business established in 1974, whose wealth of experience in the furnishing industry has given us a reputation for high quality furniture at exceptional prices. We pride ourselves in being one of the premier furnishers in the Crewe and Nantwich area of Cheshire and believe our quality, value and service will take some beating.
We have one of the largest displays of fine furniture in Cheshire with a massive choice of beds, mattresses and headboards and we have a huge selection of leather suites and fabric suites, leather recliners, fabric recliners and dining furniture providing extensive choice. Over 10,000 sq ft of showroom space in one of the finest furniture stores in Cheshire with ample customer parking. Our dedicated team will be on-hand to help you make the right furniture choice.
Sign up to our newsletter to receive all the latest news and benefit from our new discount code promotions:
Webb House News
New Swanglen Express Headboards
We are now stocking a new range of quick delivery headboards called Swanglen Express. Each headboard is available in a range of 4 fabrics and 3 sizes - Single (90cm) Double (135cm) and King Size (150cm). Simply select your size and fabric online and your headboard will be delivered to your door within 2-3 working days! If you order before 11am, you will receive your headboard the very next day! You can view the range here Swanglen Express
Posted by: Isobel Whitby 7 Oct 2016
---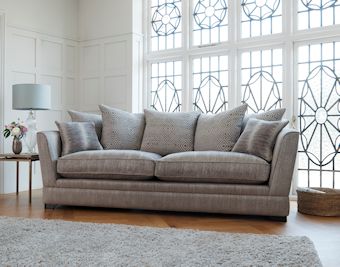 New Sloane Collection by Parker Knoll
Brand new to our showroom is the Sloane range by Parker Knoll. A glamorous suite with deep cushions and modern, slender arms, all pieces are available in either Pillow Back or Formal Back cushions in co-ordinating fabrics.
This collection is a contemporary slant on the classic Parker Knoll Style. The gorgeous silvery, plush fabrics that are available will transform your home into a decadent but tranquil place.
Posted by: Isobel Whitby 13 Sep 2016
---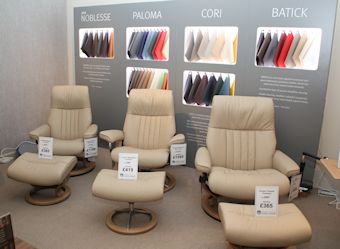 Introducing Stressless!
We are pleased to announce we are now stockists of Stressless! Both online and in our Nantwich Showroom, we are now displaying recliners from the new Global Collection; this includes the Live Capri Garda and Crown ranges.
Stressless is one of the most famous comfort furniture brands, and is manufactured by Ekornes in Norway. They have been building the worlds finest leather recliners since 1971. Design, function and comfort are at the heart of the Stressless concept.
Stressless continously work on improving every detail of their products, the results of which is the new Global Collection. Within this new collection of luxury leather recliners is the choice of 2 bases - the Classic or the Signature.
The Classic Base has been an iconic design choice for more than 30 years. Its two stem design is instantly recognisable and gives unique stability as you recline.
The Signature Base has a stylish, modern design combining cast aluminium, wood and movement. The Signature base is new to the range and includes the Balance Adapt a soft rocking motion that increases comfort and helps maintain movement when seating. Both options allow for 360 degree swivel, optional height adjustments and are available in a range of colour options.
Every recliner is available in 4 leather grades; Batick, Cori, Paloma and Noblesse. Each have been treated differently to suit individual tastes.
Each recliner is available in 3 sizes - Small, Medium and Large. Selecting the right size for you can be guided by your height but should ultimately be decided by the feel and fit of each model.
The approximate size range for each chair are as follows; Small - up to 5ft 6in Medium - between 5ft 4in and 6ft Large - over 5ft 10in.
We look forward to welcoming you in store and telling you more about the benefits of each model and course let you try them out for yourself!
Posted by: Isobel Whitby 23 Jun 2016
---
Click here to read more news items