Fine Furniture in Cheshire
Tucked away in Mill Street is a hidden treasure within another.... the beautiful historic market town of Nantwich. We invite you to explore the treasures of Webb House Furnishers, situated 50 yards from the town square whilst you explore the hidden treasures of our town. We are a family-run business established in 1974, whose wealth of experience in the furnishing industry has given us a reputation for high quality furniture at exceptional prices. We pride ourselves in being one of the premier furnishers in the Crewe and Nantwich area of Cheshire and believe our quality, value and service will take some beating.
We have one of the largest displays of fine furniture in Cheshire with a massive choice of beds, mattresses and headboards and we have a huge selection of leather suites and fabric suites, leather recliners, fabric recliners and dining furniture providing extensive choice. Over 10,000 sq ft of showroom space in one of the finest furniture stores in Cheshire with ample customer parking. Our dedicated team will be on-hand to help you make the right furniture choice.
Sign up to our newsletter to receive all the latest news and benefit from our new discount code promotions:
Webb House News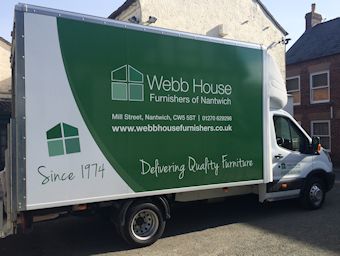 Our Brand New Delivery Van!
We have a brand new Delivery Van!
We are really pleased with its eye catching design, look out for us out and about in your area!
Posted by: Isobel Whitby 28 Apr 2016
---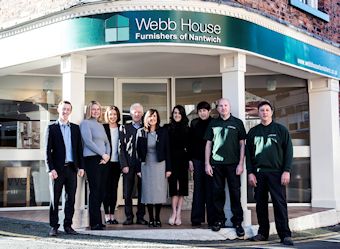 The Webb House Team New Photo
We have had some new photography taken of the Webb House Team
From L-R Neil Webb, Isobel Whitby, Ellie Calder, Howard Webb, Joan Webb, Rebecca Nevitt, Janet Stockton, Rob Sandland and Dave Taylor.
Posted by: Isobel Whitby 19 Feb 2016
---
Interior Trends for 2016
The modern home is always evolving. We look which trends are set to influence our home decor in 2016.
Formal dining rooms - for homeowners who entertain frequently, more and more they are wanting a designated space to be able to do this in. It is not just about the open plan living any more, people are going back to separating their spaces. If you are thinking of planning a new dining room, we have all you need to do so; dining tables, chairs, sideboards & cabinets in every style and type of wood. We even offer a range of painted wood options so you can co-ordinate your decor. Click here to see our full range
Kitchen islands - they provide additional workspace, but they have taken on so much more than that. With deep storage, prep sinks, room for seating and more, islands are becoming the central feature in modern kitchens. We have a range of Kitchen Islands in our Corndell Tetbury range they are available in a variety of painted finishes and a choice of tops wooden, marble or granite.
End Tables or Side Tables - these tables are perfect for a spare corner or at the end of a sofa, they can be used to exhibit a sculpture, a plant, or even just your cup of tea! All sorts of styles can be found, we have a plethora of choices in a variety of materials such as marble, glass and many types of wood, there is something for every style of decor from traditional to modern. View our complete range here
Folk Style - There is a new vibrant look on the high street, that is all about bohemian colour and pattern. Think bold floral cushions and rugs, painted furniture and tribal prints thrown in for good measure, something like our Jensen Sofa with its tie dye effect cushions would be perfect!
A taste of the orient - the oriental theme is one of the most fashionable trends for this year. It is all about adding oriental influences to your home in a bid to enhance style, interest and colour. You can incorporate heavy, dark furniture, rich colours in fabrics and on walls and interesting panelled silk screens. Replicating these trends would be our Shiro Walnut Living Room Furniture or our Ancient Mariner Mahogany Yu Yu Footstool which definitely has a look of the Far East.
Posted by: Isobel Whitby 1 Feb 2016
---
Click here to read more news items
Check back for more Special Offers soon!